Services
Regeneration
The best choice for old batteries working below their optimal level and which do not provide the level of performance required because of their high degree of sulfation. This option also applies to revive batteries that have long been unused and have lost part of its load capacity.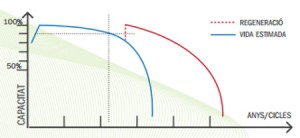 The graph shows the recovery of the capacity [y axis] through time [x axis] (and therefore the durability of a battery) after applying a regeneration.
Maintenance
Using a maintenance program with regenerations following a regular schedule (eg: yearly) is possible in some cases to double and triple the battery life while keeping them at a high performance level. For new batteries is recommended a maintenance schedule appropriate to their cycle of use. Following this program will attain a faster load time, lower power consumption and fewer replacements.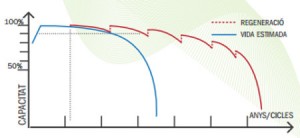 The graph shows the progression of the performance and durability [y axis] through time [x axis] of a battery subjected to a maintenance program with our regenerations.
Replace your battery
We make it easy for you: bring your old battery when you come to buy a new one and we will purchase it! (up to an old battery for every new one)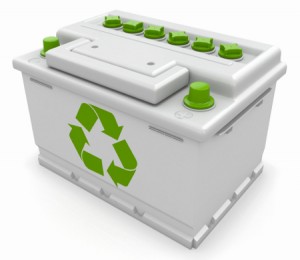 Repair and/or enhance your vehicle's battery
Is the battery of your bicycle/scooter starting to fail? It does not provide its former power? Don't pay for a costly substitution to get again a bad quality battery. In Reubacat we advise you for free about the best options to solve the problems of your battery.
And we can help with your hybrid car too!

Prolong the life of your appliances
Today most of the electrical appliances work with batteries, but the manufacturer usually tries to save money in the more economical models by using worse quality components. Don't get rid of your favorite device or toy because of a faulty battery: contact Reubacat and we will surprise you with solutions to extend the life of your appliances!

Full repair of electric scooters
At Reubacat we repair any component of your electric scooter, both from our suppliers or purchased from third parties. With our experience and service we guarantee that you will be back on the road as soon as possible at reasonable prices.
We have most of the components in our workshop, but if you have already purchased the parts that you need to replace, you have the option of sending them together with the electric scooter with no additional material cost. In case you also need the components, we always try to buy the parts directly from the manufacturer.